Integrating Environmental Sustainability* into Corporate Strategie is a Must
Climate change has become one of the major global, and also local topics. Not only the Fridays for Future initiatives have created serious attention, but also recent environmental disasters — like the fires in California and Australia, and the flash floods and landslides in Indonesia's capital Jakarta — show clearly the threats for life on Earth, if we don´t manage to limit global warming. Although, it is difficult to pin environmental catastrophes and weather events on climate change, a majority of scientists agree, that as the earth gets hotter, the frequency and seriousness of these incidents will increase.
Already more than 10 years ago, in 2009, scientists from the Stockholm Resilience Centre showed, that in addition to climate change there are eight other processes that regulate the stability and resilience of our planet: (1) stratospheric ozone depletion, (2) loss of biosphere integrity (biodiversity loss and extinctions), (3) chemical pollution and the release of novel entities, (4) ocean acidification, (5) freshwater consumption and the global hydrological cycle, (6) land system change, (7) nitrogen and phosphorus flows to the biosphere and oceans and (8) atmospheric aerosol loading. For these processes, scientists propose quantitative planetary boundaries. These are environmental red lines, that could be catastrophic for life on Earth if crossed [1]. Lately, scientists showed, that marine plastic pollution meets at least two of the three proposed essential conditions for a planetary boundary as it is irreversible and globally ubiquitous [2]. The Stockholm Resilience Centre points out that several of these nine planetary boundaries are no longer within the safe zone, within which humanity can continue to thrive. Another example to illustrate the impact of global warming and other environmental risks is the latest Global Risks Report 2020, in which environmental concerns dominate the top risks as the 5 most likely risks are environmental risks while the risk with the highest negative impact on countries is climate action failure [3].
Despite or perhaps because of these alarming findings, it is not the time for fatalism, denial, fear or finger-pointing, but time to act. And while governments recognize the environmental threat but are too slow to act, it's businesses that have to start to embrace the challenge and take a lead on this matter.
Some companies already started years ago with embedding environmental ambitions as part of their strategy. For example, Microsoft announced in January 2020, that they will not only be carbon negative by 2030. Until 2050, the company aims to remove all carbon from the environment that they have emitted since its founding in 1975. Other companies build complete business models around environmental sustainability to create long-term business value. However, it is not enough when only a few companies assume responsibility. It is a big risk for companies that ignore their responsibilities and remain passive when it comes to addressing environmental issues. Not only do they run the risk of being outpaced by existing or new competitors that better fulfill the ever-increasing sustainability requirements of customers. Also, other stakeholders put growing pressure on companies for raising their game on environmental sustainability. Employees, for instant, expect their employers to take actions against climate change as recent examples from Google, Microsoft and Amazon show. Finally, even shareholders and the financial community came to realize that climate change effects the long-term prospects of companies [4]. "Climate risk is investment risk" is what Larry Fink, Chairman and Chief Executive Officer of BlackRock, points out in his latest open letter to CEOs on the company´s website. Companies not addressing sustainability risks will face higher cost of capital [5].
How can the Environmental Sustainability Canvas Help Companies?
The Environmental Sustainability Canvas (ESC) is a simple but useful visual tool that helps companies to create a clear overview of the opportunities and threats of climate change and other ecological challenges, and how they affect the company´s future business as well as the environment. The ESC contains three building blocks: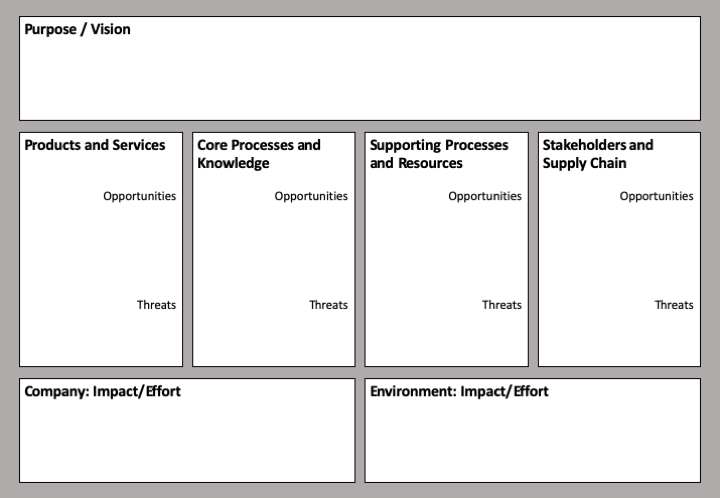 Everything starts with the purpose or vision of the company, here the environmental purpose, in the top part of the canvas. It has been consciously left open for the users of the ESC to decide, whether to focus on the purpose — "why" engaging for sustainability — or the vision — the destination or impact of sustainability efforts/activities. Most important is, that the statement is in line with the higher purpose or vision of the company and that it provides direction and inspiration for employees, customers and other stakeholders. For example, the mission statement of the clothing company Patagonia starts with "We're in business to save our home planet… At Patagonia, we appreciate that all life on earth is under threat of extinction. We aim to use the resources we have — our business, our investments, our voice and our imaginations — to do something about it."
In the center of the canvas are the business opportunities that companies can open by starting ecological initiatives, and the corresponding risks. In addition, this part of the canvas can be used to identify threats, that the company might face when remaining passive. For a comprehensive overview, the opportunities and threats can be determined in four areas, for which we will share some illustrative examples:
Products and Services: A basic thing companies must continuously improve is to reduce the negative ecological effects their products cause when being used (e. g. carbon emissions) throughout their life cycle. In addition, companies can also change the material of their products to more eco-friendly versions. For example, in 2018 Lego launched its first range of sustainable Lego elements, that are made from plant-based plastic with the target to switch completely to sustainable Lego bricks until 2030. Other players in the toy market, such as Mattel and Chillafish, also started switching from oil-based to plant-based plastic. But there are also risks related to switching to sustainable materials. Experts point out that huge cultivated areas are needed for the plants, that are used for bio-plastic. In addition, bio-plastic should be bio-degradable. Another option in the area of products and services is to use the product packaging for educating and inspiring customers. The beverage producer Aqua Monaco, for example, communicates their carbon neutrality on their bottles.

Following Porter´s value chain, the internal perspective of the company has been split into two parts: Core Processes and Knowledge and Supporting Processes and Resources. Revising the logistics chain and shortening the distances that products have to be transported, offers opportunities to reduce carbon dioxide. Marketing could stop printing catalogues and replace them with digital ones. An obvious example for the improved usage of resources is the switch to renewable energies. A major point in the internal perspective is the question, which core knowledge, for example in R&D or in production processes, does the company have that can be used to develop completely new products outside of the existing product range with a positive environmental impact.
Stakeholders and Supply Chain: This area of the ESC covers all partners in the supply chain from suppliers to customers as well as other stakeholders, like employees and financial institutions. According to a new Ipsos study, 69 percent of the almost 20.000 interviewed persons from 28 countries stated that they started changing their behavior due to concern for the environment. Consequently, retailers will make sustainability more and more a buying priority. The German food retailers Edeka and Rewe, for instance, are currently testing the use of an edible protective coating, replacing plastic wrapping for protecting fruits and vegetables. Also new platforms, cooperations or coalitions are arising. The benefit corporation and foundation Imagine, for example, brought together 32 CEOs, representing more than 30% of the fashion industry to commit to The Fashion Pact with the aim to fight climate change and protect biodiversity in the oceans.
All these initiatives will cause that companies not able or willing to follow these upcoming requirements, run the risk of falling behind because customers might decide to stop buying from them or they are delisted by retailers. Growing sustainability requirements from customers and stakeholders affects B-to-B companies also in another way, because they have to choose their business customers wisely, as Siemens recently experienced when they supplied parts for building a coal mine. Another example of risks for companies impacting the environment in a negative way has just been created in January 2020, when The Guardian announced that it is banning advertising from fossil fuel companies.
In the last part of the ESC, the impacts and efforts of the actions above are described from a company as well as an environmental perspective. By separating these two perspectives, additional clarity is generated, because actions, that are environmentally friendly from a company perspective, might also have a negative impact, if you look at them holistically. For example, for a company the environmental impact of switching their vehicle fleet from fossil fuels to electrical drive might be positive. However, from a total environmental perspective, also the production of the batteries, including the extraction of scarce raw materials, and the later disposal need to be taken into consideration.
To avoid misunderstandings, it is enough to work with estimates rather than precise figures in this part of the ESC. It is more important to become aware of the impact and efforts of the respective actions and compare them against one another. This can, for example, be done in a 2x2 impact/effort matrix.
There is no strict order about where to start with the ESC. Ideally, you would start on top with the purpose and vision and then continue with the opportunities and threats. However, in case you have not defined a purpose of your sustainability strategy or you are not yet able to do so, the results of your opportunities and threats assessment can help you define them. In other words, you may well start with determining opportunities and threats first.
How to use the Environmental Sustainability Canvas?
The Environmental Sustainability Canvas has been developed with three key applications in mind:
As part of a risk or situational analysis, the ESC can be used to identify potential risks for the company in relation to the increasing importance of environmental sustainability.

It can help companies answering the question where growing environmental consciousness creates new opportunities for business growth.

The ESC provides a quick overview that helps with internal and external communication. In this context, the ESC can be used to back the purpose statement by giving concrete examples that the company lives up to their promises. In addition, the ESC can be a good starting point for a more detailed environmental reporting.
Further readings
[1] J. Rockström, W. Steffen, K. Noone, Å. Persson, et.al. 2009. Planetary Boundaries: Exploring the Safe Operating Space for Humanity. Ecology and Society, Vol. 14, No. 2, Art. 32.
[2] P. Villarrubia-Gómez, S. E. Cornell, J. Fabres 2018. Marine plastic pollution as a planetary boundary threat — The drifting piece in the sustainability puzzle. Marine Policy, Volume 96, October 2018, Pages 213–220.
[3] World Economic Forum 2020. The Global Risks Report 2020, http://www3.weforum.org/docs/WEF_Global_Risk_Report_2020.pdf.
[4] A. Winston 2020. Leading a New Era of Climate Action, Harvard Business Review, https://hbr.org/cover-story/2020/01/leading-a-new-era-of-climate-action.
[5] L. Fink 2020. A Fundamental Reshaping of Finance, https://www.blackrock.com/us/individual/larry-fink-ceo-letter.
* Modern use of the term sustainability is broad and difficult to define precisely, not only covering environmental, but also economic and social topics. For example, the 2030 Agenda for Sustainable Development, adopted by all United Nations Member States in 2015, has 17 Sustainable Development Goals (SDGs), ranging from ending poverty to improving health and education as well as reducing inequality. Although, there are specific targets for climate change and environmental protection, mastering climate change and preserving our environment are a constraint of all other goals. This canvas has been mainly developed for applications in an environmental context, but it can of course be extended to cover also other sustainability topics.
An earlier version of this article has been published on medium.com.